Roommate Series #6: Kate  1) unofficially Aug '07-Dec '08/ Officially Aug '08 – Dec '08 (1st semester Sophomore Year) 2) Fall '09 – Switzerland 3) Aug '14- May '15 – Denver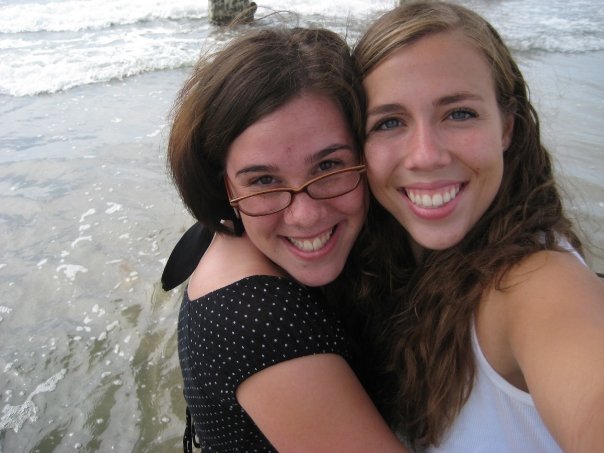 Roommate Award: "Most down for adventure" and "Repeat Roomie" 
Kate made a strong first impression on purpose and on accident. She arrived later than everyone else because she'd been in a car accident on the way down to San Diego from her hometown in San Francisco. When she arrived, she was frazzled, intimidated, had cuts on her neck from the car crash, and she, like many of us, was still figuring out what her "style" would be.
She came across as brash, yet friendly. Striking, but eager. I don't actually remember most of our interactions in the first couple weeks of college. She was a pre-nursing major (so, super heavy course load), and she didn't have a cell phone or a computer, so she spent a lot of time away from the rest of us, having to do all of her homework in the computer lab. And without a cell phone, it was anyone's guess when she'd be back, or if she'd be joining us for meals in the caf.
In that way, I think our friendship developed a little slower than it did with myself, Emily, and Jules at the end of the hall. But she was surely one of us. She was fun, and she made a priority to hang out with us a lot still, and still find time to be a diligent student.
I think the things that drew me to Kate were the ways she was so obviously trying to give off this hard, city-girl impression, and the fact that it was a thin veil for an uncertain, kind-hearted woman who really wanted to have fun and didn't care about making a fool of herself.
We bonded over our similar childhoods of hand-me-downs and all things church. We bonded over our love of literature, and the fact that we had to be good students because we were both there on scholarships. We bonded over the real-life, dark, hard things that people we were close to were dealing with in our hometowns. It seemed like she was someone who could see the real world with me outside of the bubble of beautiful people and happy life that was our college campus. She seemed to know what I knew from the start — that "Loma Life" was not real, and it would not last.
I think it was those similarities that lender themselves to the foundation of what I knew even then would be a life-long friendship.
But the day that I realized how special Kate came in the spring of our freshman year. It was Kate's birthday, and all she wanted was a hermit crab (I have no idea why). We had planned to take her to Ocean Beach for the day to go around, look in the shops, get our feet in the ocean, eat ice cream from the best place ever, and finally get her a hermit crab. Once we'd gotten back, we had a few other presents for her. After I gave her my present, she got excited, and jumped to her feet.
"Ok! Can I give you your birthday present now??!" she asked bouncing with excitement.
I hesitated in an awkward moment, before finding words.
"Um, Kate. Do you know when my birthday is?"
This was in April, and my birthday is in August.
"Yes! It's in August!" She said.
I stared, still confused.
"So, you know that this is your birthday, not mine, right?" I was a littler condescending, and a little concerned about a potential stroke.
"I know! But you love presents! So for my birthday I want to give you your birthday present!"
She ran and pulled a gift out from under her bed.
"Open it!" she said, beaming, so proud of herself.
I unwrapped a hammock that she, with her very limited funds, had purchased for me from one of our favorite shops in Ocean Beach. She knew I'd love it, and I did.
That's when I knew I'd never met someone else like her.
She pays attention to the people in her life. She pays attention to whats important to them, to what they enjoy, and she makes a point to care for them in ways that really meet them where they are.
It is rare that I am truly blown away, and that day I was. Kate showed me what it looked like to really think about others more than herself. She still shows me that often. And it's a lesson I hope to continue to learn and emulate for the rest of my life.
She is, to this day, the only person I've ever heard of giving someone else a present on her own birthday.
I still have that hammock. And I still have that friend. And neither of those are coincidences.
---
Jo O'Hanlon is an adventurer and storyteller. She tries to be honest about the ugly and hard parts of life, and the beautiful parts too. This blog is one of the places she shares her thoughts and stories.
Other places are
instagram: @jrolicious         twitter: @jrohanlon        storyofjoblog@gmail.com